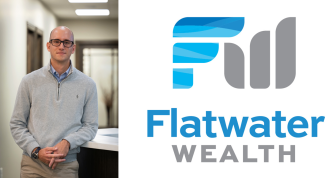 Flatwater Wealth Welcomes Kyle Upp!
We are excited to announce the addition of Kyle Upp to the Flatwater Wealth team!  Kyle graduated from the University of Nebraska-Lincoln with a degree in business administration and an emphasis in finance. After graduation, Kyle served in the U.S. Air Force as an acquisitions officer. While in the Air Force, he served in a leadership role overseeing programs for the F-15 Strike Eagle and KC-46 Pegasus.  Kyle grew up in Gering, Nebraska and currently resides in Grand Island.  In his spare time, Kyle enjoys playing golf, watching the Huskers on Saturdays, and training for the next triathlon.
Kyle has successfully completed the requirements to become a licensed Wealth Advisor, and he has already proven to be an asset to our investment management team. Kyle looks forward to helping clients in all aspects of the financial planning process.
Flatwater Wealth wants to say thank you to our clients for the trust and confidence you continue to place in us. We are committed to providing high-quality services that are tailored to meet your needs and goals.  If you would like to visit with Kyle about your goals and dreams, feel free to call or email him using the link in his Our Team bio.  Welcome, Kyle!